Hi! Today I have a new art journal with bright cheerful colors. After two Halloween pages in a row I thought it was appropriate.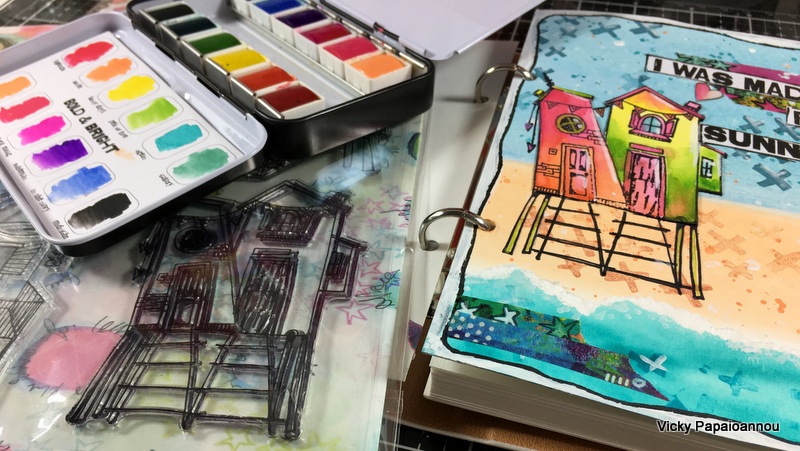 I am also sharing a fun unboxing! The new Art by Marlene collection just arrived and I will browse through the products so you can see what's new and I will use some of them to create my page.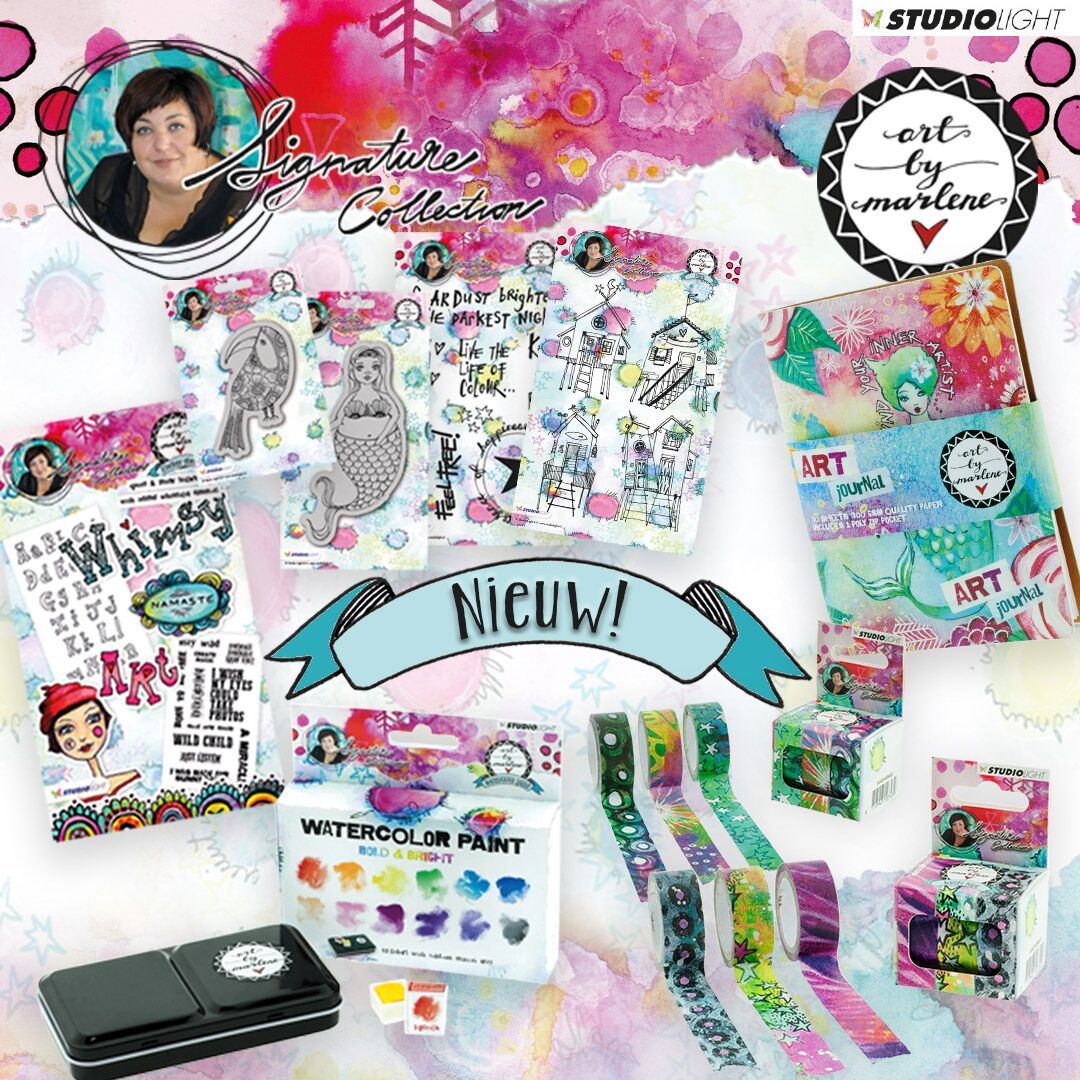 video tutorial
You can enjoy the unboxing video as well as the step by step tutorial on my new art journal page below or at my YouTube channel
close-up photos
Today I used the watercolors for the whole art journal page. I usually work with acrylics or inks on my art journals, but it's a great example of how you can use any coloring medium to get awesome results.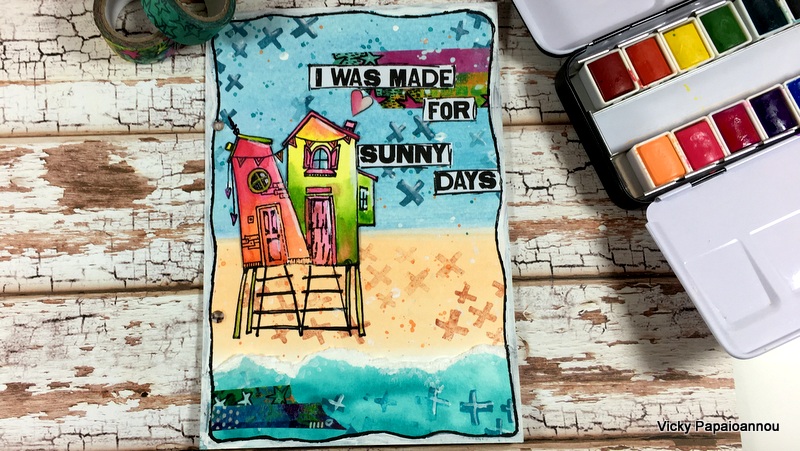 I mixed a lot of the new products for this collection in my page. You can see the stamps, the stickers, the watercolors and the actual art journal book in action!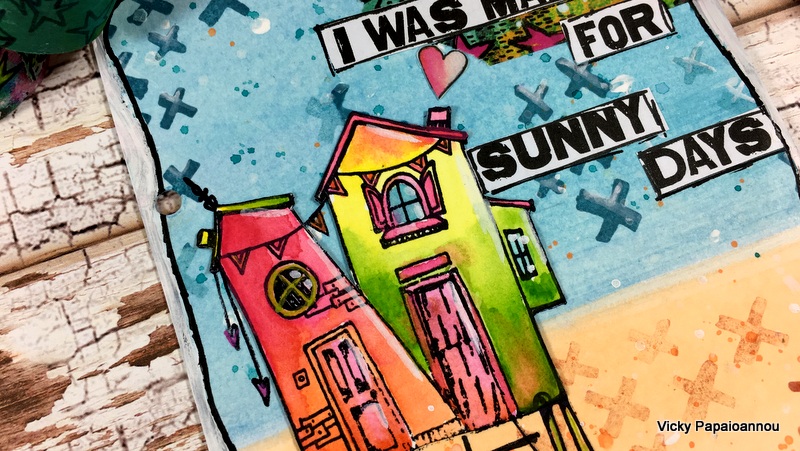 The stamp is so unique and I plan on using it again. It is easy to customize the houses… use them as they are or without the ladders !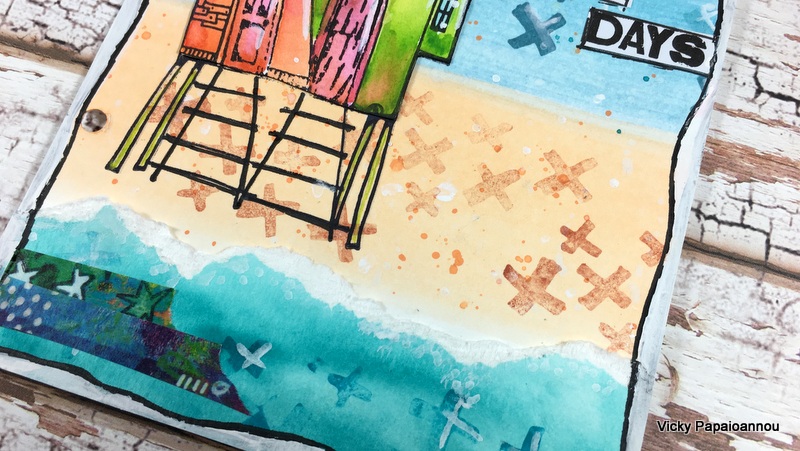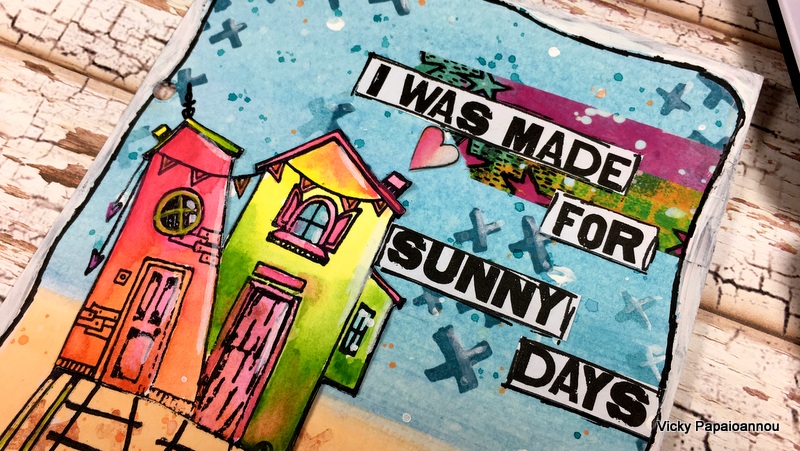 art journal supplies
You can find the new Art by Marlene products through the Studio Light website in the Netherlands or the Art from the Heart website in the UK (linked as AFT below). The products are also available through Joggles (linked as JGG below) for the US. If some of the products get out of stock click the "notify me" button to get notified as soon as they are back in store.
Links to multiple online shops are available, just click the logo below each item. Affiliate links used where possible at no extra cost to you.
Studio Light Art By Marlene 2 Small…

Studio Light Art By Marlene 2 Sticker…

Art by Marlene – Watercolour set 1

Studio Light Art By Marlene 2 Washi…

Studio Light Art By Marlene 2 Washi…

Studio Light Art By Marlene 2 Rubber…

Studio Light Art By Marlene 2 Rubber…

Studio Light Art By Marlene 2 Rubber…

Studio Light Art By Marlene 2 Rubber…

Studio Light Art By Marlene 2 Rubber…

Studio Light Art By Marlene 2 Rubber…

Studio Light Art By Marlene 2 Rubber…

Studio Light Art By Marlene 2 Rubber…

Studio Light Art By Marlene 2 Rubber…

Studio Light Art By Marlene 2 Rubber…

Studio Light Art By Marlene 2 Rubber…

Studio Light Art By Marlene 2 Rubber…

Studio Light Art By Marlene 2 Clear…

Studio Light Art By Marlene 2 Clear…

Studio Light Art By Marlene 2 Clear…

Studio Light Art By Marlene 2 Clear…

Studio Light Art By Marlene 2 Clear…

Uni POSCA MEDIUM POINT WHITE Paint…

Ranger Ink – Dylusions Paint Pens -…

Ranger Ink – Dylusions Paint Pens -…

Ranger Ink – Dylusions Paint Pens -…
related videos
If you want to see more projects I did using Art by Marlene products here are a few