Hi craftes!
Hope you all had a great week and are have plans for a fun weekend!
Just a quick post to remind you of my giveaway.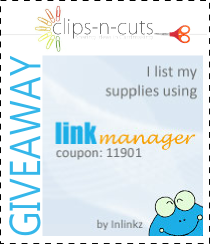 PRIZE: One lucky winner will get a $50 Gift Certificate to SimonSaysStamp and two runner ups will get$25 GC each.
At Inlinkz we are celebrating since we have partnered with SimonSaysStamp and we are now able to offer you all their database through Link Manager. This makes it super easy to create your supply lists.
All you have to do to enter the giveaway is to use Link Manager to list your products. Include the above badge on your post and link back here. Don't forget to enter your post below!
If you are already using Link Manager help us spread the news and play along! If you haven't used it yet then go ahead and read THIS post on how easy it is to do it, try it out and join the giveaway too!
And since you are still reading here are a couple of super quick cards I made.
Just patterned paper and a little fussy cutting:
I used white enamel on the flowers' stamens:
and here is a clean and simple rainbow card:
I used my T ruler to adhere those ribbons as straight as possible
I am adding that raibow card at Virginia's challenge.
Supplies for both cards:
Thank you for visiting! I'll be back on Sunday with my regular video!
Hugs