Welcome to a new weekly long event! I'll be sharing a how-to video each day for five days in a row using Penny Black stamps. If this turns to be successful I have plans of repeating it the first week of every month focusing on my favorite stamp companies. There are prizes for you, so make sure you read all the way down!
Here is the first card of the week:
What I love about this card is the sparkle. And aren't these brads gorgeous?!
Here is a closer look
You can enjoy the video here or on my personal YouTube channel.  Scroll down for a list of supplies and to find out more about the giveaway. For any questions just leave a comment.
Supplies:


Giveaway:
Three stamps for three lucky winners!!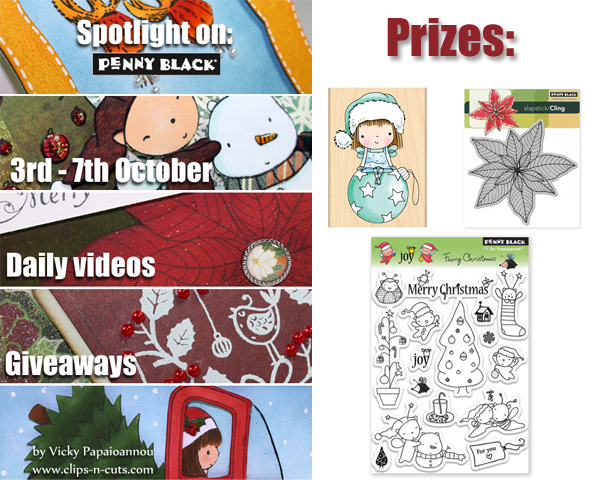 Here is what you need to do for a chance to win:
1. Let others know about it. Use the image above and link back here (use your blog or tweeter or facebook).
2. If you aren't already, become my follower using "Google friends connect" or subscribe by email on the sidebar.

3. Enter your name using Inlinkz just below.
Submissions are open through out the week and the 3 winners will be announced on Monday 10th of October.
Enjoy the week!