Today I have a fun video tutorial! I will showcase the June 2018 MFT release by sharing 8 cards using most of the products. So here we go!
card 1
For my first card I used the gorgeous Stitched Blooms die set. There are so many ways to use this set, cut them out of patterned paper, of colored cardstock, or white and then color it. I decided to go simple and kept everything white but the flower centers. The centers match the background panel so everything comes together. Love the elegant look!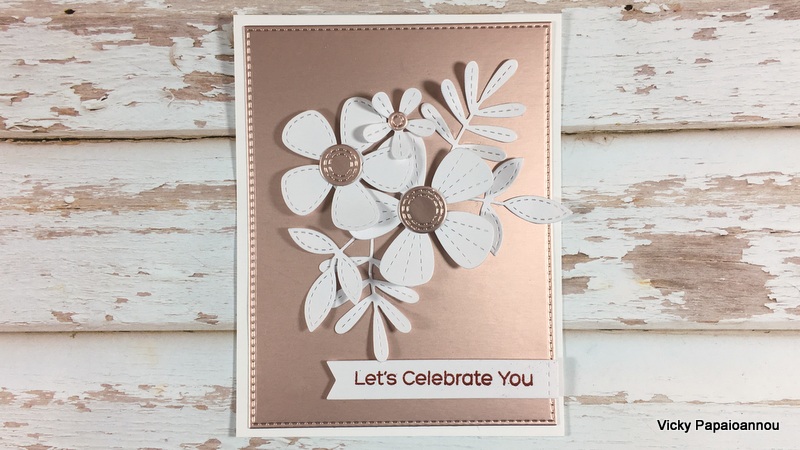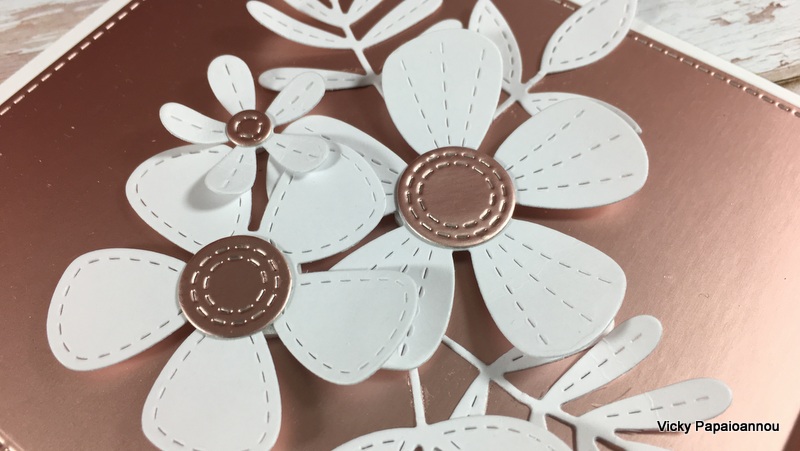 card 2
Using the fireworks stamp set I did lots of embossing on this card. The stamp set is perfect for congratulation cards and there are so many ways to use it. And here is another idea: make your fireworks colorful on a dark blue (night sky) background for an amazing effect! the sentiment is from the You wow me stamp set and I cut out the word WOW with this die.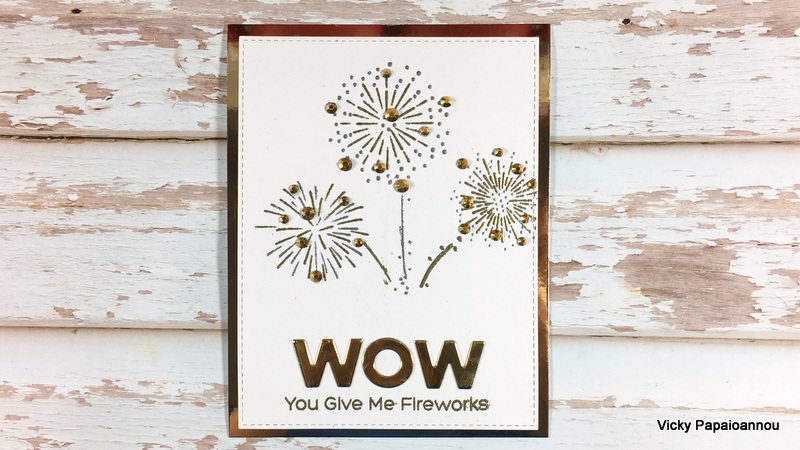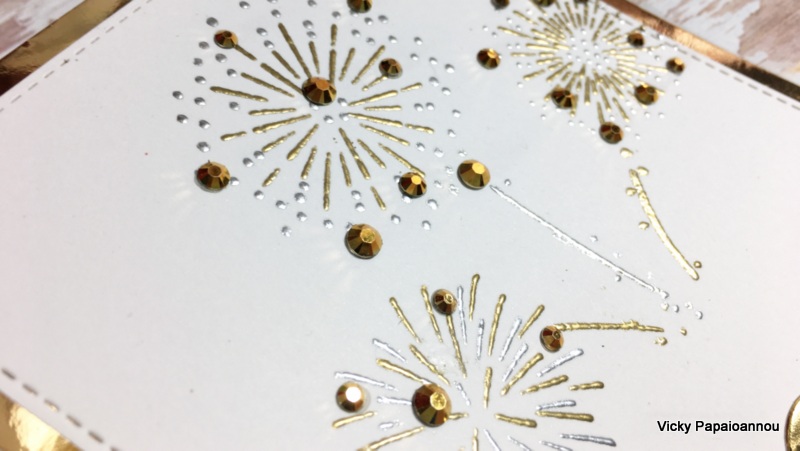 card 3
This card is so bright and happy but so simple at the same time. Everybody loves shaker cards and I sure had lots of fun using the shaker sunshine die. I combined it with the Full of sunshine stamp set and the Sunshine die.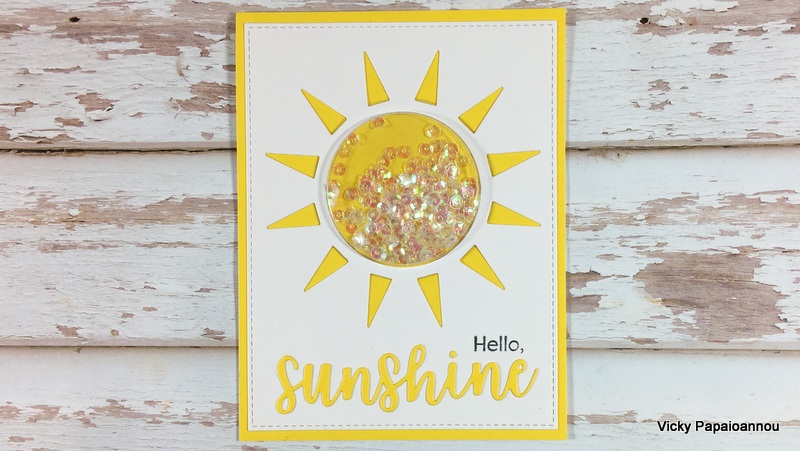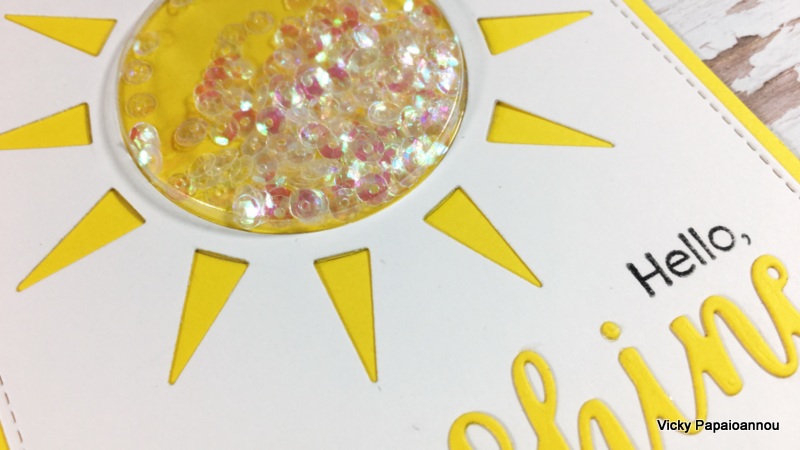 card 4
One of my favorite cards from today's set is this one! I used stamps from the Toucan do it set.  With the leaves I created my own patterned paper and then I just colored and placed the toucan on top. For some added interest I also cut out a window. Love the sentiment!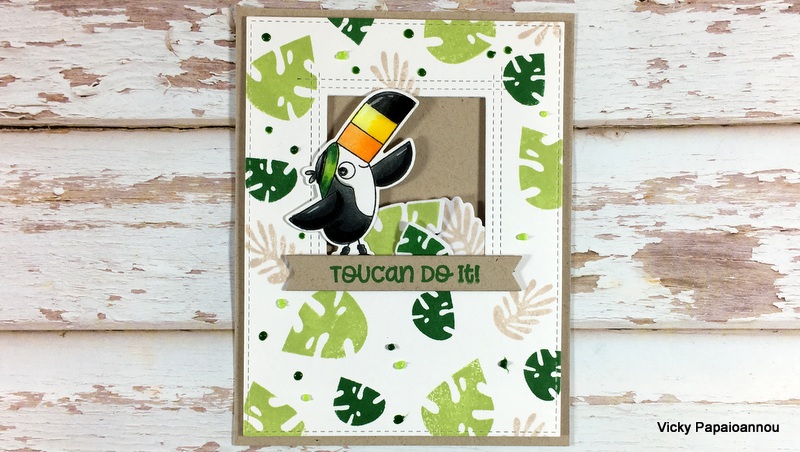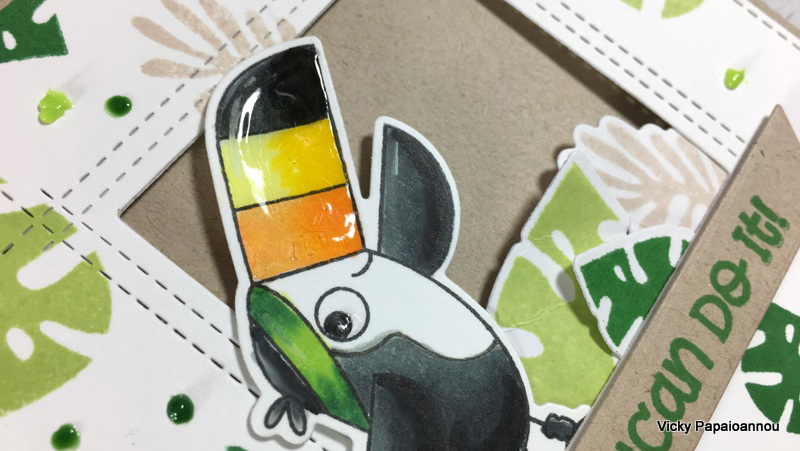 card 5
A fish card, perfect for any summer birthday. A card you can give to both boys or girls! The stamps are from the Adorned Ocean Friends  set. It is a layering stamp set with a solid image and a doodling to add on top. I love that it's perfect for quick cards with no coloring.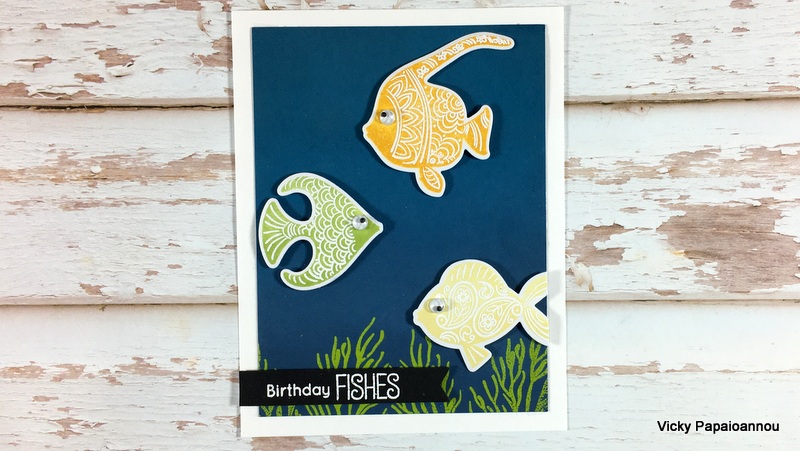 To make the card more playful I just had to add some googly eyes!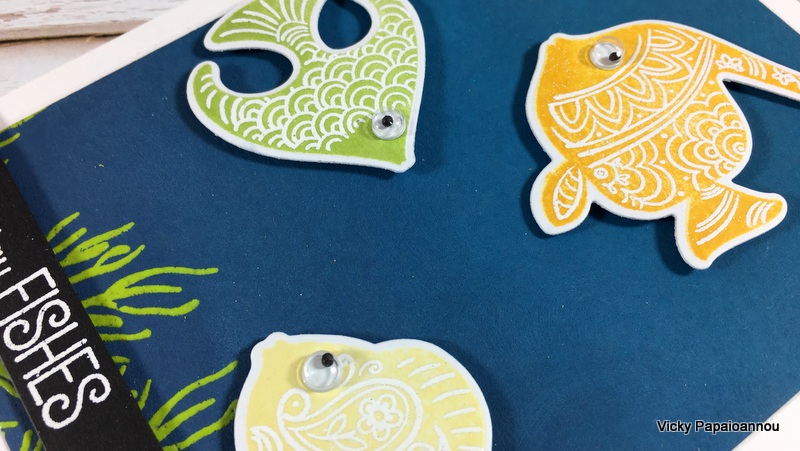 card 6
Now this is unique! How about an aquarium die set?! Combine it with the large rectangle shaker pouches and you have the perfect place to put your fish in! For my little fish, sea grass and sentiment I used stamps from the Gill friends . It has tiny images that fit perfectly inside my aquarium.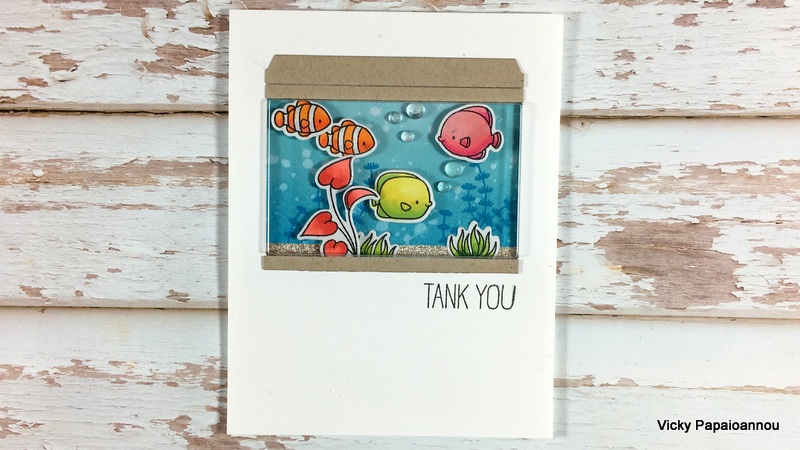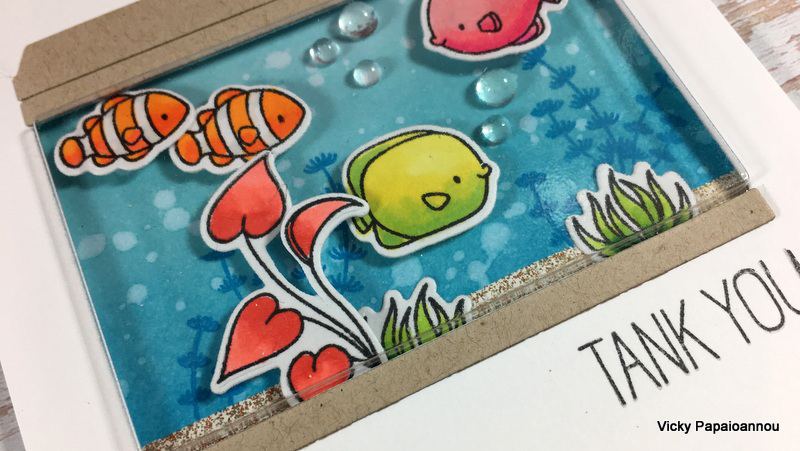 card 7
One more ocean themed card … well I live in Greece and we do enjoy 30 ºC  (about 86 ºF) these days, so I can't stay away from this theme!  My pelican is from the Beach Buds stamp set and that lovely sea was made using the Make Waves stencil.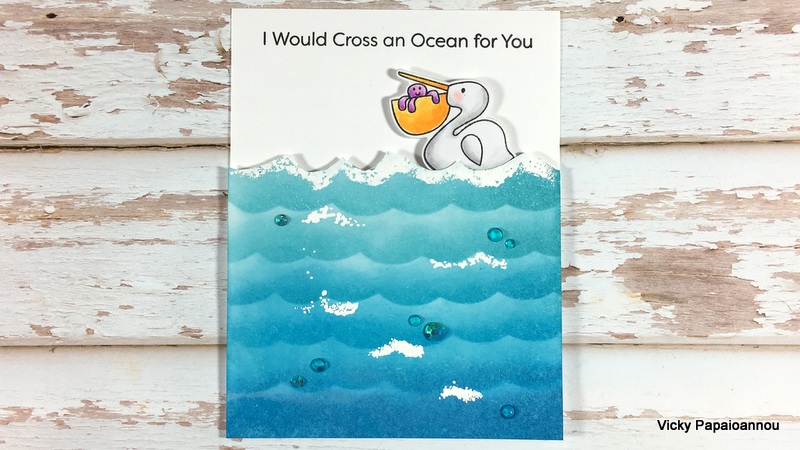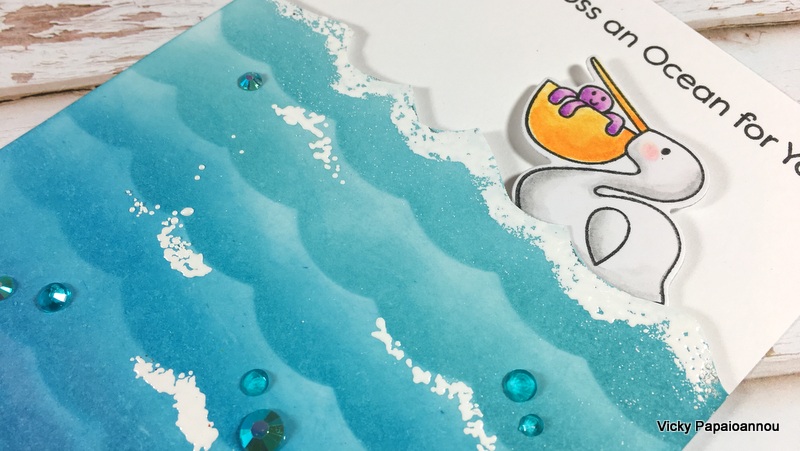 card 8
And for the last card I have something clean and simple but with a sparkle! I used the Geometric Stars stencil and applied glimmer paste on top. I completed my card with touches of silver and the hello sentiment using this die.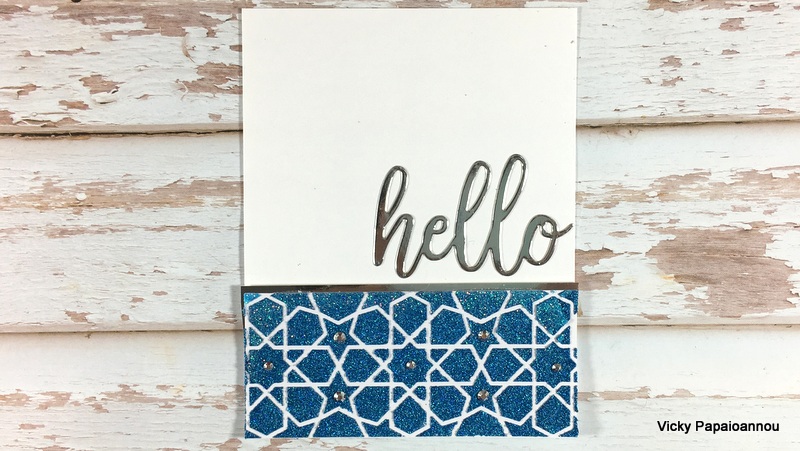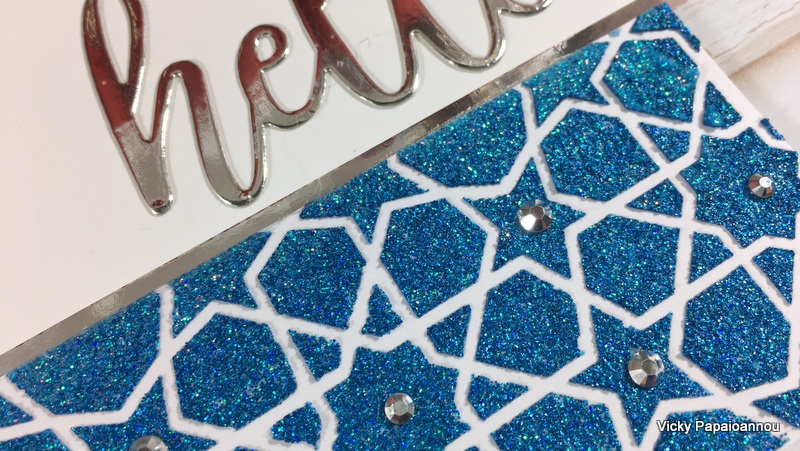 video tutorial
You can enjoy the video below or at my YouTube channel
supplies
Links to multiple online shops provided below. Affiliate links used at no extra cost to you.
Die-namics Stitched Blooms — My…

My Favorite Things FULL OF SUNSHINE…

My Favorite Things SUNSHINE SHAKER…

My Favorite Things SUNSHINE…

My Favorite Things YOU WOW ME Clear…

My Favorite Things FIREWORKS Clear…

My Favorite Things WOW Die-Namics…

My Favorite Things HELLO Die-Namics…

My Favorite Things BEACH BUDS Clear…

My Favorite Things BEACH BUDS…

My Favorite Things ADORNED OCEAN…

My Favorite Things ADORNED OCEAN…

My Favorite Things TOUCAN DO IT Clear…

My Favorite Things TOUCAN DO IT…

My Favorite Things GILL FRIENDS Clear…

My Favorite Things GILL FRIENDS…

My Favorite Things AQUARIUM…

My Favorite Things LARGE RECTANGLE…

My Favorite Things MAKE WAVES…

My Favorite Things GEOMETRIC STARS…

Studio Katia SMALL GOOGLY EYES 3mm…

Tonic Studios – 8.5 x 11 Cardstock -…

Tonic Studios – 8.5 x 11 Cardstock -…

Tonic Studios – 8.5 x 11 Cardstock -…

Tonic Studios – Nuvo Collection -…

Tonic Studios – Nuvo Collection -…

Die-namics Square Peek-a-Boo Window…

Studio Katia MARCH Crystals sk0318

Studio Katia CLEAR ROUND DROPS MIX…

Studio Katia SILVER FOIL Crystals SK2417

Studio Katia GOLDEN Crystals sk2427

Tonic Studios – Tim Holtz – Travel…

Tonic Studios – Nuvo Collection -…

Tonic Studios – Nuvo Collection -…

Tonic Studios – Nuvo Collection -…

Tonic Studios – Nuvo Collection -…

2 X Wax Rhinestone Picker Pencil Gem…