Hi crafty friends ! Today as promised I am back with 8 cards that I made using products from the March release by mftstamp.com. I am also sharing a video below where you can see how I created all of them and you will find a list of all the supplies too.
Here are some close-up photos of all the cards!
card 1
For this card I used the Pure Innocence Somebunny Sweet set ( MFT | SSS ). The card is so sweet with the little girl holding the bunny. You can add lots of other elements in a scene like this, such as flowers or butterflies or a fence… just mix and match anything you have on your stash!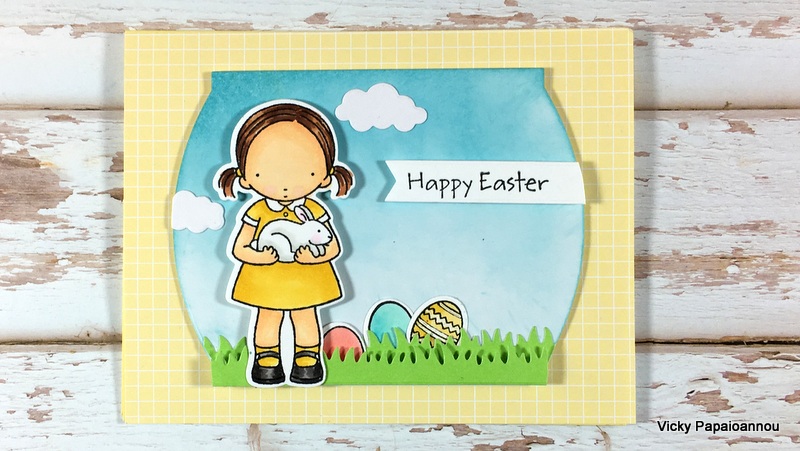 I used my alcohol markers to color her and my distress oxide inks for the sky.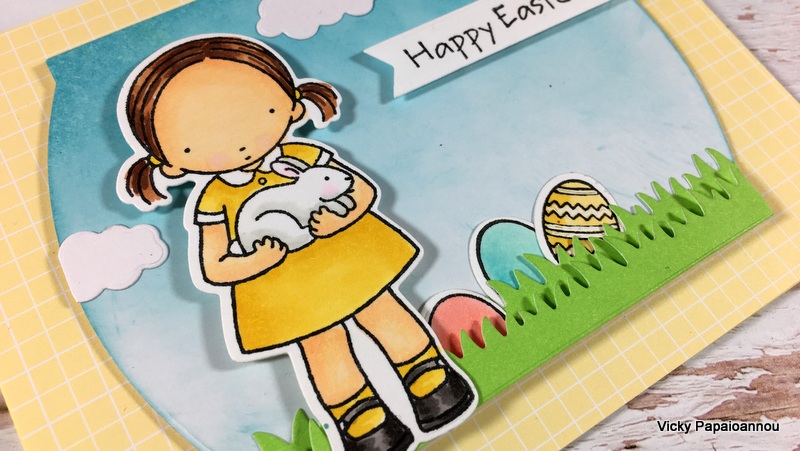 card 2
Now isn't this the most adorable stamp set ever?! BB Bubble over with Joy ( MFT | SSS ). I used two of the bunnies from the set and combined them with the new Stencil Sunrise Radiating Rays ( MFT | SSS )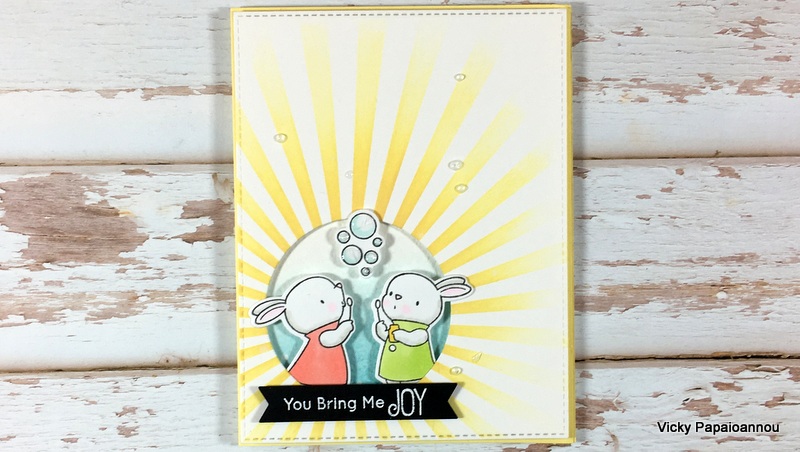 This card goes on top of my favorites from today's cards!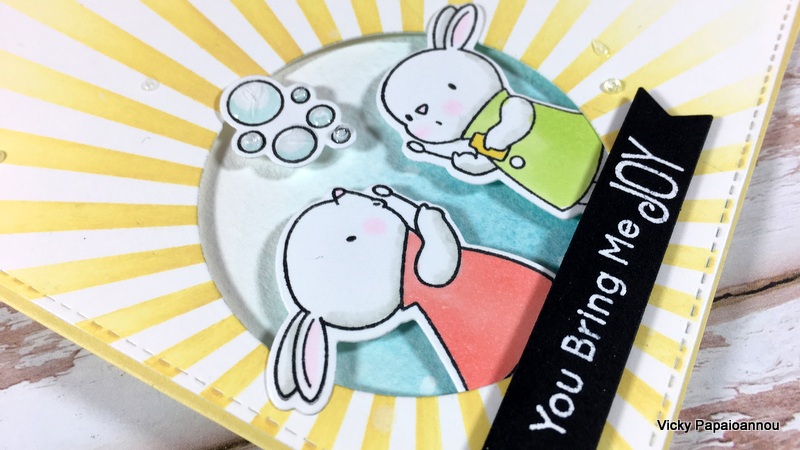 card 3
Here is a lovely card that smells spring. I combined the flowers from the Pressed Flowers ( MFT | SSS ) with the Die-namics Friend Duo ( MFT | SSS ).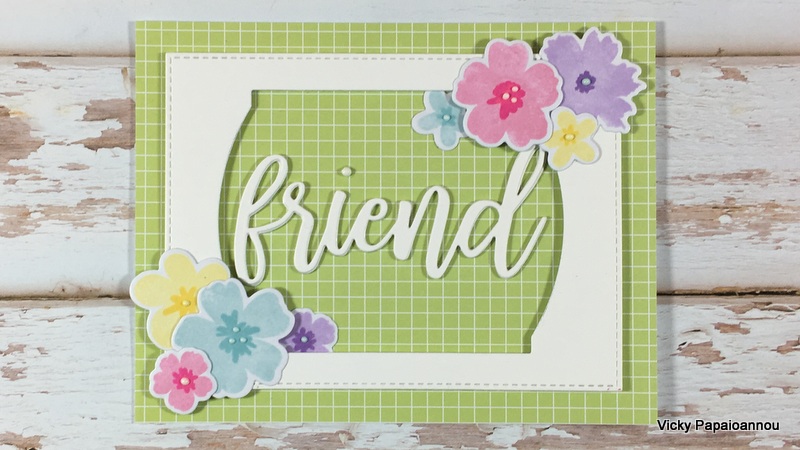 A simple card to recreate but so fresh and colorful !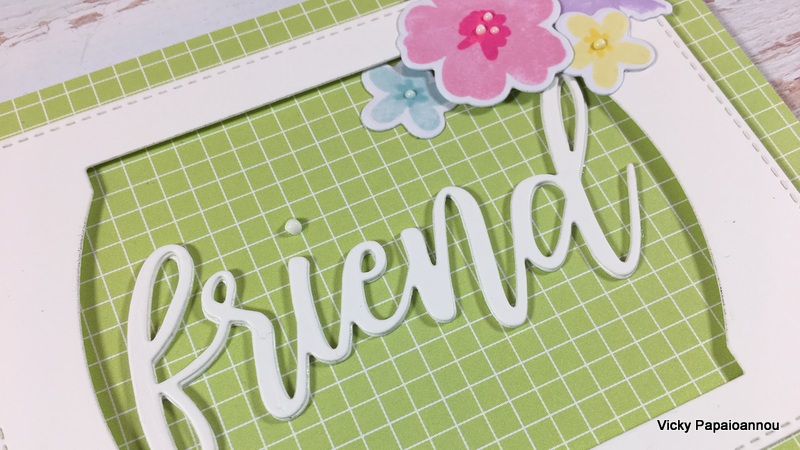 card 4
Here is one more adorable card. The owls are from the Owl My Love ( MFT | SSS ). The cut outs were all colored using my Nuvo Aqua Flow pens ( SBC | SSS )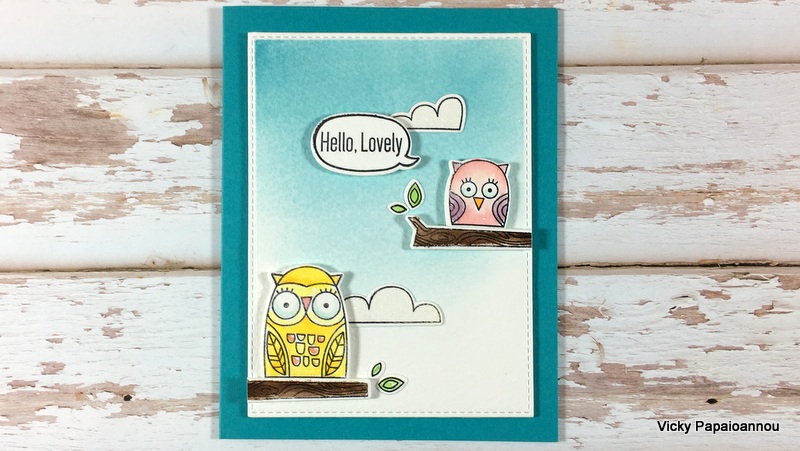 The ombre effect at the background was done by using my distress oxide ink again.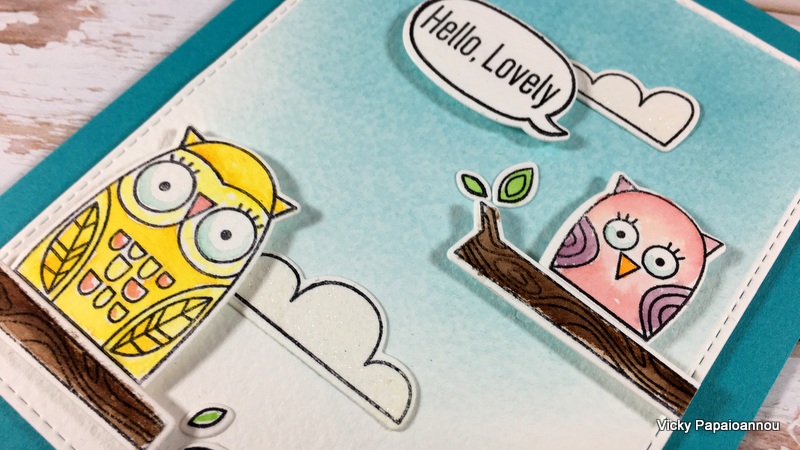 card 5
A quick and easy card using the new Stencil Basic Shapes – Triangles ( MFT | SSS ). I worked on a watercolor paper and used a few shades of my distress oxide inks. I am obsessed with them lately and can't put them down!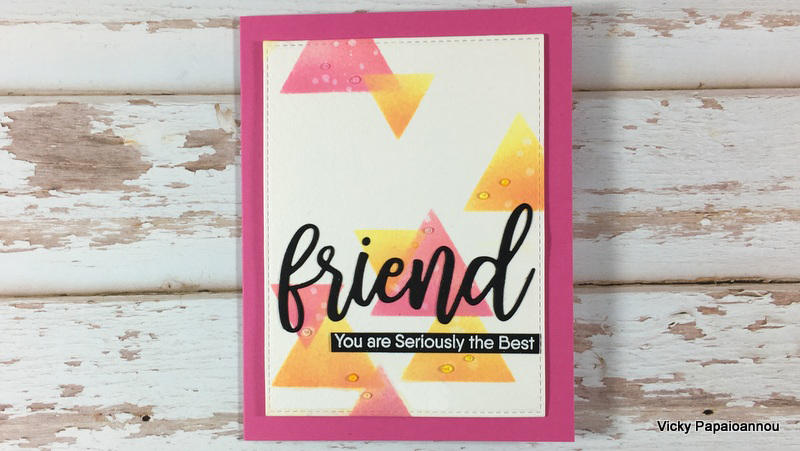 Here is a close up look to all those inked triangles.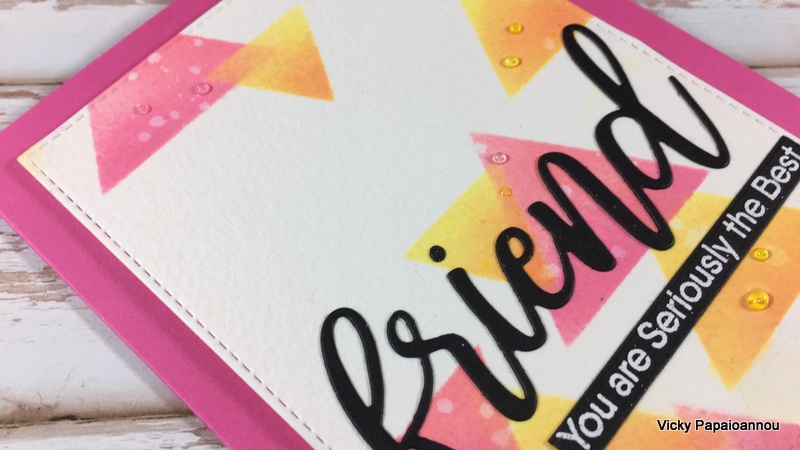 card 6
And here is one more adorable card. This card goes to my daughter, she loves cats and she deserves it for her amazing school performance! Yep, pround mom here 🙂 If you or your receipient is a cat lover then check out this stamp set Love You Furever ( MFT | SSS )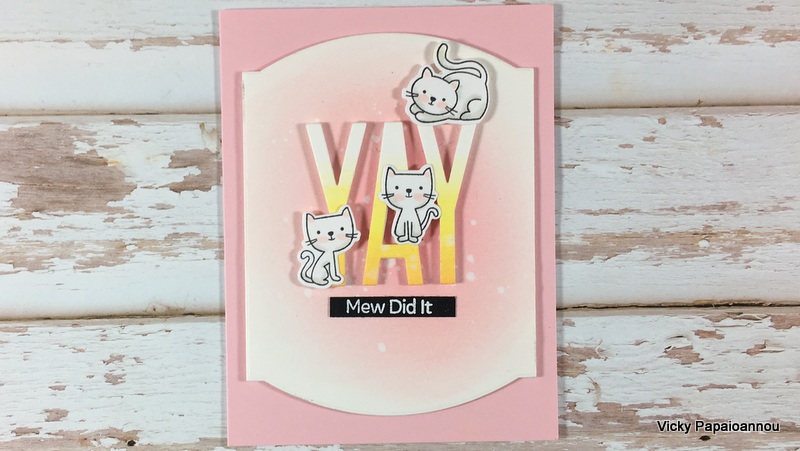 I love the comnination of yellows and pinks, such a fresh and sweet looking card!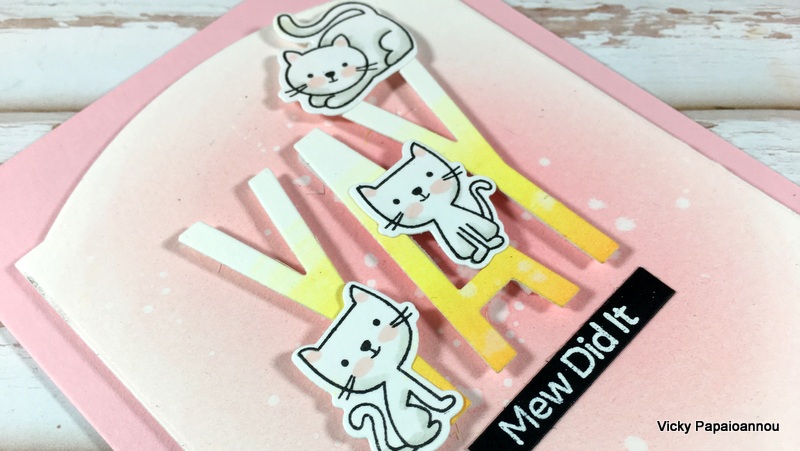 card 7
And how about a card with dinosaurs ?! Using the Delightful Dinosaurs ( MFT | SSS ) and the Die-namics Volcano ( MFT | SSS )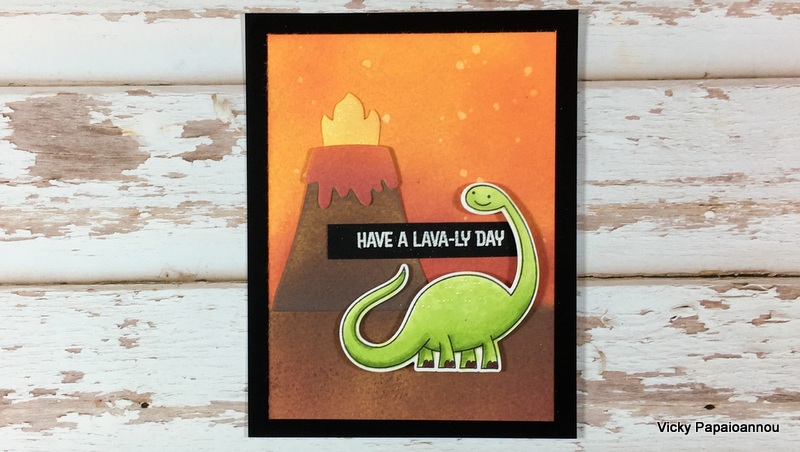 To make my card more dynamic looking I used oranges and reds for my background and a black cardbase.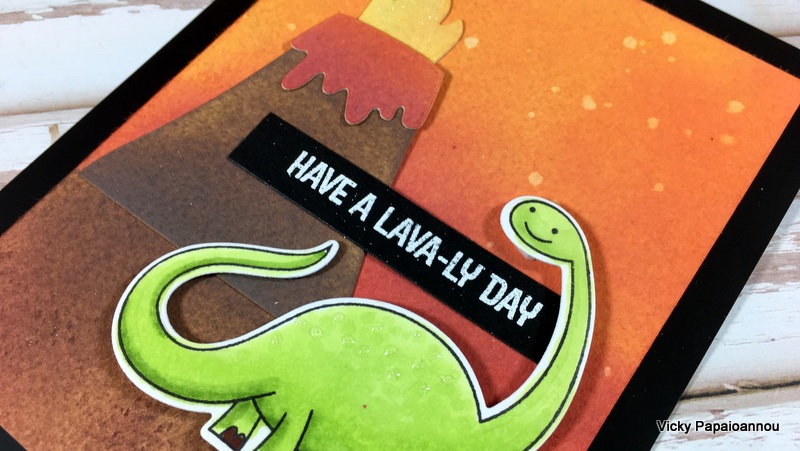 card 8
For the final card here is a clean a simple design. It's a great way to use up all those scraps of patterned paper you have been hoarding! I used the Die-namics Celebratory Banner ( MFT | SSS )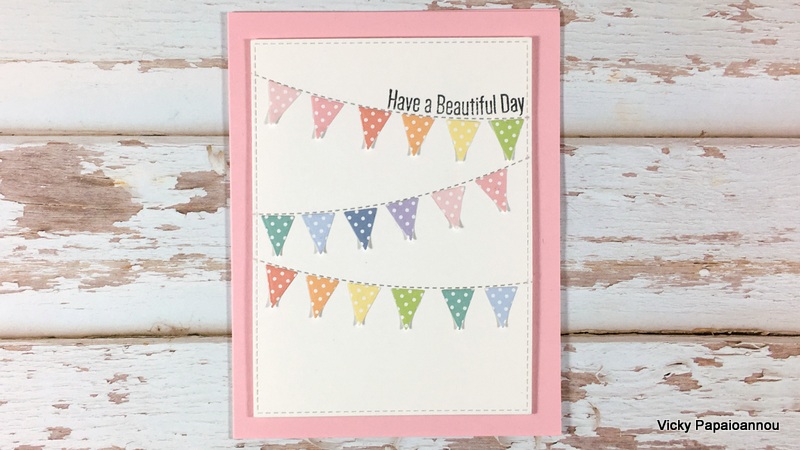 A lovely design for any occassion that brings spring closer with thise pastel colors!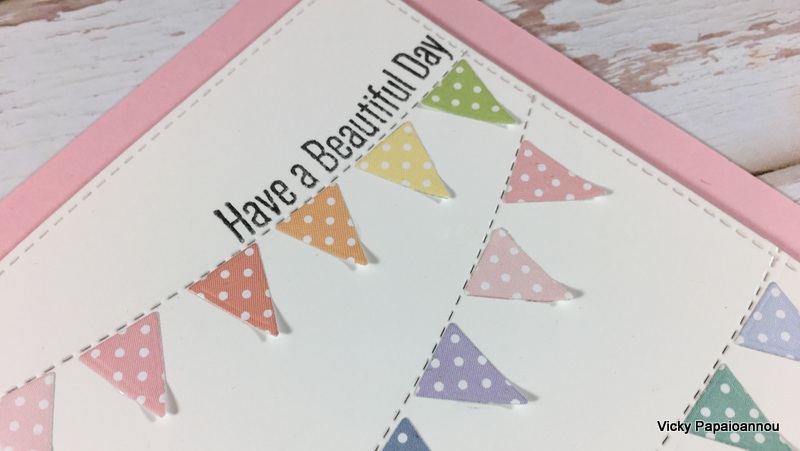 You can watch the video below or at my YouTube channel
Supplies:
Links to multiple online shops linked below. Affiliate links used at no extra cost to you.
Pure Innocence Somebunny Sweet — My…

Die-namics PI Somebunny Sweet — My…

Love You Furever — My Favorite Things…

Die-namics Love You Furever — My…

Owl My Love — My Favorite Things (5827)

Die-namics Owl My Love — My Favorite…

Beautiful Day — My Favorite Things…

Die-namics Beautiful Day — My…

BB Bubble over with Joy — My Favorite…

Die-namics BB Bubble over with Joy —…

Die-namics Friend Duo — My Favorite…

Pressed Flowers — My Favorite Things…

Die-namics Pressed Flowers — My…

Delightful Dinosaurs — My Favorite…

Die-namics Delightful Dinosaurs — My…

Anything-but-Basic Friendship — My…

Yay for You — My Favorite Things (5835)

Die-namics So Many Yays — My Favorite…

Lava You — My Favorite Things (5832)

Die-namics Volcano — My Favorite…

Die-namics Celebratory Banner — My…

Die-namics Elegant Rectangle STAX —…

Stencil Sunrise Radiating Rays — My…

Stencil Basic Shapes – Triangles — My…

Itsy Bitsy Polka Dots Pastels Paper…

Graphic Grid Pastels Paper Pack (4223)

Nuvo Deluxe Adhesive (5270)

3M Scotch DOUBLE-SIDED FOAM TAPE…

3D Foam Squares – White, Regular (4329)

3D Foam Squares – White, Small (4331)

Tim Holtz Distress OXIDE INK PAD SET…

Tim Holtz Distress OXIDE INK PAD SET…

Tim Holtz Distress OXIDE INK PAD SET…

RESERVE Tim Holtz Distress BLENDING…